Technology medicine - Career Watch 2002 - Careers 2002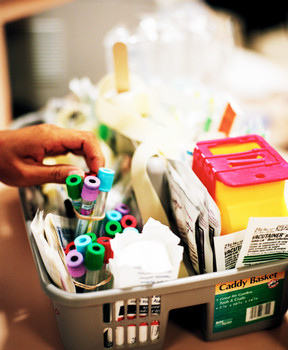 ANIEL FLAKE, 19, A MIDSHIPMAN AT THE U.S. NAVAL Academy in Annapolis, Maryland, always dreamed of becoming an astronaut and traveling to Mars. To make his career goal a reality, Flake has a coordinated plan--his very own mission to Mars, if you will. First came a high school course load heavy on math and science. Second, Flake researched colleges with strong aerospace engineering programs--the military academies, Embry-Riddle University, Texas A&M. (He chose the Naval Academy partly due to the school's strong record of turning out astronauts.) Next on his agenda after graduation will be fulfillment of his five-year service commitment to the Navy, as well as a stint in flight school. After years of hard work and flight training, Flake will hope to get noticed and hired by NASA.
"The big selling point of the academy was that I'm guaranteed a job, and I'll be following in the career footsteps of astronauts," he says.
If, like Flake, your idea of the perfect school day includes studying physics, dissecting frogs, or programming computers, then a career in technology or medicine may be for you. And developing your own mission plan now can only increase your chances for success.
TECHNOLOGY
While the heady, go-go atmosphere of startups and stock options may be history, tech industries are here to stay.
A study last spring by the Information Technology Association of America (ITAA) reported that as many as 425,000 high-tech jobs would go unfilled in coming years. But how have the events of September 11 and the recession affected this prediction? "Demand certainly isn't where it was," admits Marjorie Bynum, vice president of workforce development for the ITAA. "But what we're hearing is that companies are still looking for good people with IT skills." The good news is that job markets rebound, and for high school students looking to enter the workforce in two to four years, technology careers are a good bet.
The BLS reports that five of the top 10 fastest growing jobs are tech-related--computer engineers, computer support specialists, systems analysts, database administrators, and desktop publishing specialists.
"It's never too soon to begin talking to guidance counselors and doing some homework on different IT careers," says Bynum. She also suggests boning up on English, reading, and communication skills, which are important for well-rounded employees seeking promotions. While a bachelor's degree can lead to great-paying jobs, many community colleges can prepare you for tech jobs, too. For more information on tech careers, visit www.gettech.org.
HEALTH & MEDICINE
Ever since the sixth grade, Jana Mitchell knew she wanted to become a nurse. "I find the human body fascinating," she says. "Plus, I enjoy helping people." A job-shadowing project where she followed a hospital nurse convinced her of her career path. Mitchell, 19, is now studying nursing at Rivier College in Nashua, New Hampshire.
The good news for Mitchell is that the BLS projects that by 2006 health care services will jump 30 percent and account for 3.1 million new jobs. An aging population will need more services--continued care, therapy, and rehabilitation. Opportunities for nurses and physicians are expected to grow. On average advanced-practice nurses, with training beyond the two to four years of basic nursing education, earn $47,700 to $82,000 per year. Physicians earn about $102,000 per year.
But those salaries come at a price. Becoming a physician requires 12 years of expensive training. The average medical student graduates with a $100,000 debt. Physicians often work long, irregular hours. Still, most find treating patients to be rewarding. See "Allied Health" below for information on other health care careers.
Traci Mosser
RELATED ARTICLE: systems analyst.
ALEX THOMPSON
AGE: 25
LOCATION: Fort Gordon, GA
JOB: Information systems operator/analyst for the U.S. Army
EDUCATION: BA in political science from Jackson State University in Mississippi. Analysts must befamiliar with computer programs, including Unix, Windows, and Microsoft Office.
SALARY: Median annual salary is $55,973.
ON THE JOB: "The military wants to be on top of the latest technology," says Thompson, whose rank is "Specialist" (SPC). Army, Navy, and Air Force members who need technology training go to Fort Gordon, which is the headquarters of the U.S. Army Signal Center and home to the School of Information Technology. Throughout the day, Thompson receives work orders to de-bug (remove errors from), analyze, install, and maintain computer hardware and software. He may be protecting computers from viruses or updating systems with the latest versions of software. Thompson must constantly keep up with new technology. He and his colleagues often share information about solutions to computer problems. "You've got to be willing to learn from everybody," he says. His last big project was to upgrade a whole classroom. Every so often, Thompson confronts a new problem and must "be creative to find a solution."
STARTING OUT: "I have always loved computers," Thompson says. His penchant for technology followed him into high school, where he took computer management classes, and college, where he worked on a minor in computer science.
REWARDS: Thompson enjoys the variety of his job, because there are "different things to do every day." Systems analysts solve technical glitches and help their organization get the most from its computer resources. Sometimes evening or weekend work may be required to solve certain problems. Attracted to the Army for the opportunity to do something he loved and pay off college loans (the Army will pay off either one-third of the debt or $1,500 for each year of service), Thompson calls it "one of the best moves I ever made."
CHALLENGES: Military security demands up to twice the amount of encryption used on civilian computers: "Right now, Internet security [needs to be] high. If we let down our security, communications can be cut off. We are running checks and tests on the network for weak entry points or possible backdoors. We keep everything as secure as possible," he says.
MORE INFO: Institute of Electrical and Electronics Engineers, www.computer.org; For info on military careers, see page 8.
Jami Dittus
PHARMACIST
NADINA POWELL
AGE: 27
LOCATION: Franklin Lakes, NJ
JOB: Pharmacist/Pharmacy Practice Resident, Merck-Medco
EDUCATION: Powell earned a bachelor's degree in environmental chemistry from the University of California, San Diego, a master's degree in chemistry from California State University in Los Angeles, and a doctorate of pharmacy from Howard University in Washington, DC. Pharmacists must get a degree from a college of pharmacy, do an internship, and pass a state licensing exam.
SALARY: Pharmacy residents earn about $30,000, according to Powell. Drug store and staff pharmacists earn about $63,400.
ON THE JOB: While many pharmacists work in drug stores, some work in hospital, clinical, or managed care settings. As a pharmacy practice resident for Merck-Medco, which provides prescription drug benefits to 65 million people, Powell does more than just dispense pills. Like a medical resident, she rotates to different sections of the benefits management division to learn all aspects of the job. A typical day might include reviewing a formulary (a list of medications covered under a pharmacy benefit), researching questions about prescriptions, and counseling patients by phone. Powell is part of a team of pharmacists that contacts patients with multiple sclerosis to counsel them on the proper use and side effects of their medications.
STARTING OUT: As a chemistry graduate student, Powell worked in a pharmacy and became intrigued by the career and its emphasis on anatomy, microbiology, and physiology.
REWARDS: Powell helps make recommendations to Merck-Medco pharmacists nationwide. "In managed care, every program I help to develop impacts millions of lives."
CHALLENGES: "[My Job] differs from a dispensing pharmacy environment because I have several projects to choose from. It's hard to pick one. I want to do it all!"
MORE INFO: The Academy of Managed Care Pharmacy, www.amcp.org; Merck-Medco careers, www.merckmedcopharmcareers.com
Courtnay Sander
ALLIED HEALTH
Want a job in health care, but don't want to spend years in school? Consider an allied health career. Allied health is an umbrella term covering many health services jobs that are in demand--dental hygienist, diagnostic medical sonographer, dietitian, emergency medical technician, radiographer, and respiratory therapist, to name a few. According to the Association of Schools of Allied Health Professionals (ASAHP), many, but not all, of these jobs require two-year associate degrees and offer starting salaries of $30,000 or more. For more information about schools with allied health programs, go to www.asahp.org.
MOLECULAR BIOLOGIST
TRACY CAVATO
AGE: 26
LOCATION: St. Louis, MO